Welcome to our World, Eye Laser Consulting. Founded in Tucson, Arizona in 1984 by Robert M. Kershner, MD, MS, FACS, Orange Grove Center for Corrective Eye Surgery and Eye Laser Center continue to provide medical and surgical services to patients nationwide. With offices in Boston, Massachusetts, and now Palm Beach County in Florida, we offer the full spectrum of ophthalmology consulting services for educators, research scientists, patients, and the medical/surgical, legal and pharmaceutical industries.
Robert M. Kershner, MD, MS, FACS
WELCOME TO EYE LASER CONSULTING

Welcome to Eye Laser Consulting and Robert M. Kershner, MD, MS, FACS. Dr. Kershner is shown here demonstrating today's modern laser surgery.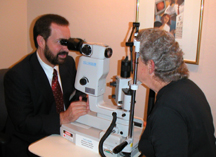 THE COMPREHENSIVE EYE EXAMINATION
The comprehensive eye examination has two basic parts:

Your vision will be measured to determine the proper prescription for glasses (refraction), test your pupils, eye muscle balance, side-vision (visual field) and perform tests for glaucoma (eye pressure).
Your pupils will be dilated with eye drops and the physician will perform a complete microscopic examination of your eyes, inside and out.

You should be provided with a copy of your prescription, you are entitled to the most complete medical eye examination possible, with written instructions and explanations, as well as a complete discussion with your physician about your condition with all of your questions answered and your concerns addressed.

Our Office Hours are Monday through Friday, 8:00 a.m. to 7:00 p.m. Dr. Kershner can be contacted through this website.
Dr. Kershner and Eye Laser Consulting want you to be fully informed about your eyes and your vision. We enjoy answering questions about your eye health, so feel free to ask.
| Intro Page | Home Page | What's New | About Us | Physicians |
| Your Eyes | Our Specialties | Appointment | More Your Eyes | Location | Contact Us |Privacy Policy
*Individual results may vary. Persons over the age of forty are more likely to require glasses for reading. Sunglasses may be necessary when out of doors. As with all surgical procedures, there is no assurance or guarantee as to the outcome of the procedure.
This website is intended for educational purposes only. It is not a substitute for medical advice from a physician. Use of this site constitutes an agreement with the user that releases the Eye Laser Center, Eye Laser Consulting and Robert M. Kershner, MD, MS, FACS from any and all liability.
Eye Laser Consulting
Robert M. Kershner, M.D., M.S., F.A.C.S.

SET YOUR SIGHT ON US...AND SET YOURSELF FREE!

Designed & Developed by
Robert M. Kershner, MD, MS, FACS
Copyright © 1998-2008. All servicemarks, trademarks and copy herein are registered property of Robert M. Kershner, MD, MS, FACS. All rights reserved. Version 09192007