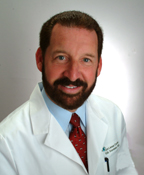 The Implantable Miniature Telescope

©2003 Robert M. Kershner, MD, FACS. All Rights Reserved. Suite 303, 1925 West Orange Grove Road Tucson, Arizona USA 85704-1152 Phone: (520) 797-2020 Fax: (520) 797-2235 website: http://www.EyeLaserCenter.com

Clinical Trial Begins of the IMPLANTABLE MINIATURE TELESCOPE for PATIENTS with advanced MACULAR DEGENERATION

Tucson, Arizona USA- Robert M. Kershner, MD, FACS of the Eye Laser Center in Tucson, Arizona announced today that they are currently enrolling eligible patients with macular degeneration to participate in a nationwide clinical trial of the Implantable Miniature Telescope (IMT™). The multi-center trial will examine if the IMT, an investigational device implanted inside the eye, can safely improve visual acuity in patients with age-related macular degeneration (AMD), the leading cause of blindness and visual impairment in the western world.

"Patients who have lost functional vision as a result of advanced Age-Related Macular Degeneration have not had many options for improved vision," said Doctor Robert M. Kershner, MD, FACS of the Eye Laser Center in Tucson. Doctor Kershner is the local principal investigator for this study. "This amazing device offers the first hope of restoring visual function to people who are severely affected by this disease."

This Phase II/III investigational trial will include approximately 200 patients from 30 leading research universities and ophthalmology centers across the U.S of which the Eye Laser Center in Tucson is one. The study is intended to assess the effectiveness of the IMT to safely improve vision in patients with advanced AMD or Stargardt's macular dystrophy, an inherited disease of the macula. Patients who have either of these conditions and wish to know if they are eligible to participate in the trial can contact the Eye Laser Center in Tucson by calling 520-797-2020, faxing their information to 520-797-2235 or by e-mailing to info@asiteforeyes.com.

Eligible patients must be over the age of 55 and have advanced dry AMD, disciform scar (wet form of AMD), or Stargardt's macular dystrophy in both eyes. Visual acuity cannot be better than 20/80 or worse than 20/630 in both eyes. No other major eye disease can be present, except for cataract. Individuals who have undergone surgery for cataracts in both eyes are not eligible for this clinical trial.

Candidates must be able to attend all follow-up visits during this 2-year study. They must also attend scheduled vision training appointments after the implantation procedure to help adapt to the implantation of the device. Enrolled patients will receive the device and study related procedures at no cost.

AMD is the leading cause of vision loss in patients over the age of 50. AMD is characterized by degenerative changes to the macula, the most sensitive part of the retina in the back of the eye. The retina contains light sensing cells that capture visual information that is sent to the brain. The macula is responsible for detailed central vision that is required for reading, shopping, and other daily activities.

AMD is generally classified into its dry (atrophic) and wet (exudative) forms. The dry form of the disease is more common and progresses slowly, while the less common wet form can cause rapid vision loss. Late-stage dry AMD and wet AMD that has scarred, or disciform AMD, are advanced forms of the disease that can cause moderate to severe vision loss.

Nearly 15 million Americans have some form of AMD, according to the National Institutes of Health's National Eye Institute, and over 1.6 million older Americans have the advanced form of the disease. To date, there is no accepted treatment for dry AMD and existing treatments for wet AMD have variable results. The IMT clinical trial focuses on the advanced form of the disease that robs central vision from those patients it affects.

About the IMT

The IMT is a micro-sized precision telescope approximately the size of a pea. It is designed to magnify images onto the retina. By magnifying images for patients with macular degeneration, it is hoped the blind spot caused by the disease is reduced, allowing for improved central vision and associated function in daily activities such as recognizing people, watching television, and reading the newspaper. The IMT is implanted inside one eye by an ophthalmologist in an outpatient procedure much like cataract surgery. Placement inside the eye allows the advantage of utilizing natural eye movements to scan the environment and reading materials, as well as providing a natural cosmetic appearance. The non-implanted eye will continue to provide peripheral or "side" vision for the patient.

To view the Newsweek article on the IMT Click Here:

For more information on the IMT and the clinical trial, please visit the study sponsor's company web site at www.visioncareinc.net, call them at 1-888-528-0006 or contact us through this website at: info@asiteforeyes.com.

For more information about the Eye Laser Center and other pioneering work of Robert M. Kershner, MD, FACS or for patient inquiries visit: www.EyeLaserCenter.com or call 520-797-2020, fax 520-797-2235

Robert M. Kershner, MD, FACS is an internationally recognized ophthalmic surgeon. He is a frequent contributor to health columns, has written over two hundred scientific articles, contributed to sixteen textbooks and lectures on eye microsurgical techniques to surgeons the world over. He specializes in cataract and refractive surgery at the Eye Laser Center in Tucson, Arizona. Copies of his articles and chapters of his book "Lessons from the Practice-The Gift of Sight" are available for free download from his website http://www.aSiteForEyes.com or call (520)797-2020 for a consultation.